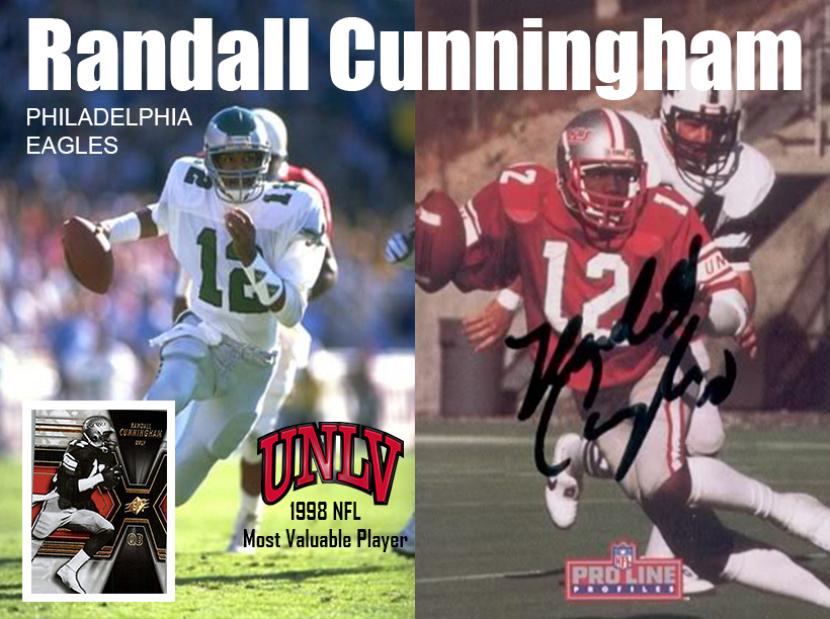 Randall Cunningham broke 18 school records as UNLV's quarterback and punter and led the Rebels to the 1984 Pacific Coast Athletic Association championship and California Bowl victory over Toledo. His No. 12 jersey was retired at halftime of the Southern Methodist game that season.
Cunningham earned first-team All-America honors by the American Football Coaches Association in 1983 and second-team honors by The Associated Press in 1983 and 1984 before being selected in the second round of the 1985 NFL Draft by the Philadelphia Eagles.
Cunningham was the NFL's first superstar dual-threat quarterback, a prolific runner and passer whose personal highlight tape has withstood the test of time. During a 16-year career, Randall Cunningham accumulated victories and oh-wow plays in bunches.
In the NFL he was a four-time Pro Bowler, two-time first-team All-Pro, two-time second-team All-Pro, NFL passer rating leader, NEA NFL Most Valuable Player, PFWA NFL Most Valuable Player, three-time Bert Bell Award winner, NFL Comeback Player of the Year, NFC Player of the Year, and inducted in both the Philadelphia Eagles Hall of Fame, and the National Football FoundationCollege Football Hall of Fame.
Randall Cunningham--Fly Like An Eagle.mp3