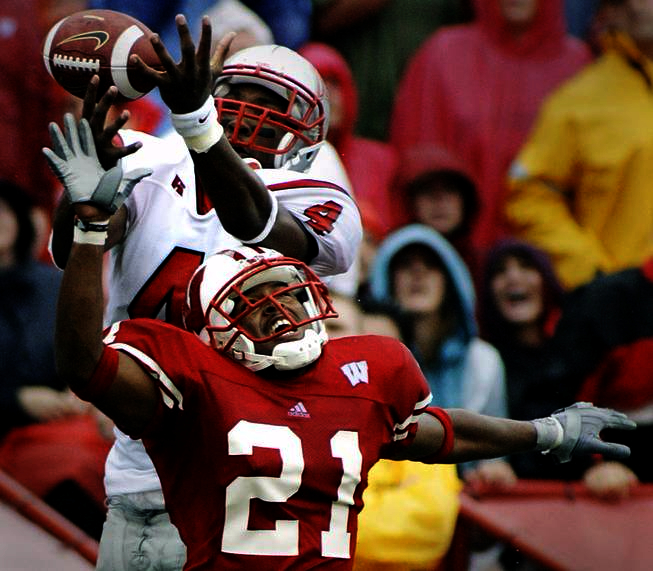 Flashback: UNLV's Defense Feasted on No. 14 Badgers with 8 Sacks, 5 Turnovers
By Rebel Raid Staff - UNLV Message Board
September 19, 2016
It was a drizzly wet September day in 2003 when John Robinson and the UNLV Rebel football team entered the field at Camp Randall Stadium to confront the No. 14 ranked Wisconsin Badgers before a boisterous crowd of 80,000 fans.
The college football world gave UNLV no chance of winning, tabbing the Rebels a 20-point underdog.
Little did anyone realize, however, the real storm was about to unleash in thundering proportions, a showcase of dominance performed by UNLV's defense.
"I think we all knew we were going to win beforehand," said Zach Bell, one of UNLV's defensive linemen. "There was a sense in the locker room we were going to win".
That's exactly what UNLV did, grabbing a 23-5 win that was captured on national television.
What made the outcome even more historic was the fact that No. 14 Wisconsin had not lost at home since 1959 when being ranked in the top 15.
UNLV's defensive line played as if they turbocharged their legs before the game, creating a brick wall that the Badgers struggled to move through, while also forcing Jim Sorgi, Wisconsin's QB, to scramble for his life. UNLV's defense accounted for 8 sacks, and caused 5 turnovers.
UNLV safety, Jamaal Brimmer, a local kid from Las Vegas's Durango High School, was a one-man wrecking machine for the Rebels. Against the Badgers Brimmer tallied 11 tackles, including two sacks, two interceptions, and he scooped up a fumble to return it 55 yards for a touchdown. Brimmer's effort reminded Coach Robinson of another safety he once coached by the name of Ronnie Lott.
"Coach Robinson told us that once it starts getting crazy and loud to just pretend [the fans] were cheering for us because we had the same colors," Bell said.
Unfortunately, with almost ten minutes still remaining on the clock, Wisconsin fans were filing out of the building with their heads down. Badger player, Jim Leonhard, explained "It's a real sick feeling seeing your fans walk out with eight, nine minutes left. But I probably would have, too".
To describe it in the words of UNLV's Zach Bell, "We took over the stadium that day".