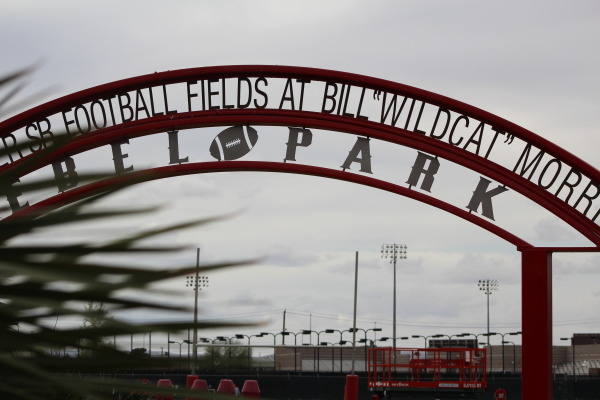 UNLV Football Spring Camp 2017
By Rebel Raid Staff - UNLV Message Board
March 1, 2017
Spring camp 2017 officially kicked off early Wednesday morning for UNLV Football and a buzz throughout Las Vegas and across social media is reawakening as discussions and tweets and reports about the Rebels reappear. Springtime is the season of new beginnings, a fresh resurgence of life, and in this case, a rejuvenation of the sport we all love: college football.
Coach Tony Sanchez and his staff began building since their first arrival to UNLV and now there is a genuine sense that this year could offer a first solid taste of winning, which the Rebel players and fans eagerly desire. But first, spring camp.
Spring camp is used to assess the roster talent, determine who the team's natural leaders are, identify which individual player's offseason workouts is shining brightest among the crowd of helmets and shoulder pads, and most importantly, gel a "team" of young men coming together in preparation for the fall season ahead.
Yes there are storylines and position battles, including the quarterback race between seniors Johnny Stanton and Kurt Palandech and redshirt freshman Amarni Rogers. Rogers possesses high potential but he lacks the experience ingrained in both of the seniors. Spring camp is about discovering which signal-caller provides the best opportunity to win games.
On the defensive side, UNLV coaches will be evaluating a bundle of up and coming talent. The defensive front and secondary both have a lineup of holes they need to fill. Incoming defensive JC transfers such as Roger Mann and Bruce Hester on the line, Jacob Rominger at linebacker, and Demitrious Gibbs at safety, combined with capable freshmen and sophomores who are all anxious for their opportunity to earn a starting spot, and the Rebel defense will look very different in 2017 than it did a year ago.
Spring Camp likewise allows coaches to clean up some of the pitfalls that caused UNLV problems in the past, such as with special teams. Special teams struggled heavily last season and figuring out schemes and personnel along with conditioning and drilling will be a primary emphasis throughout camp.
Spring Camp practices are all open to the public. Fans can watch and evaluate in their own minds what they foresee this UNLV football team accomplishing later this fall and beyond. Will the Rebels take another step forward? Perhaps reach a bowl game? You decide this spring. Come out to Rebel Park and take a gander and see what the buzz is about. As for Coach Sanchez, he knows his program is trending upward, so engaging the city and opening the doors to the fans is important as the Rebels continue their climb to new heights in the Mountain West Conference.
UNLV FOOTBALL 2017 SPRING PRACTICES
All practices start at 8:10 am at Rebel Park
Wed. March 1
Fri. March 3
Mon. March 6
Wed. March 8
Fri. March 10
Mon. March 13
Wed. March 15
Fri. March 17
Mon. March 20
Wed. March 22
Fri. March 24
Mon. March 27
Wed. March 29
Fri. March 31
SATURDAY APRIL 1 at NOON – SPRING SHOWCASE